---
Our Website is currently being updated. Some of our features & pages may not be available from time to time as we work to improve your online experience. We apologize for any inconvenience.
---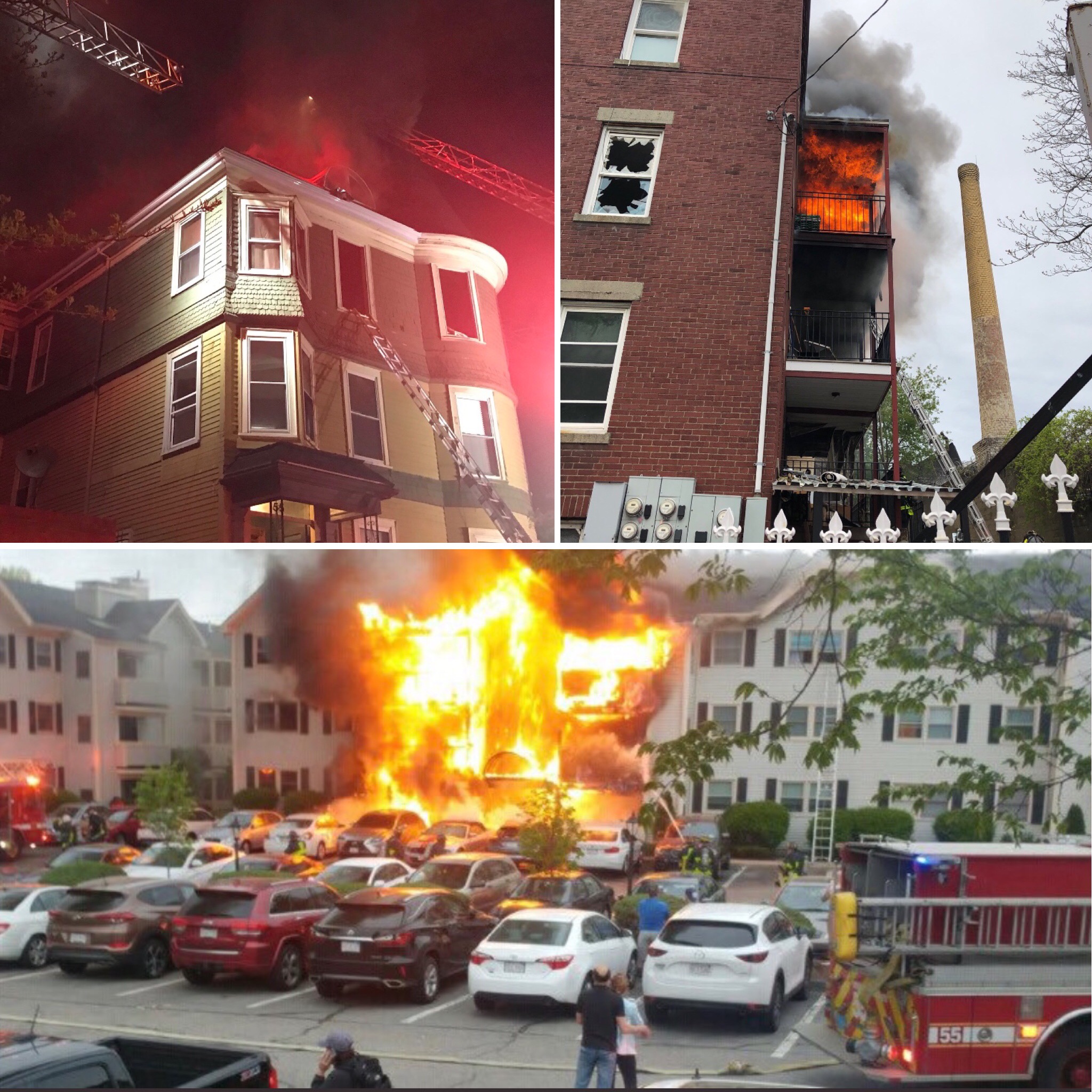 ---
OPEN LETTER FROM LOCAL 718 PRESIDENT RICH PARIS
March 12, 2018
---
Our members fought 2 separate multiple alarm fires at the same time this morning. A 6 alarm fire on VFW Parkway in West Roxbury (bottom photo) and a 2 alarm fire on Groom St in Roxbury. (Upper right). Overnight our members also battled a 4 alarm fire on Dale St. in Roxbury. (Upper left). Any of these fires could have easily resulted in the loss of multiple lives. As fire companies were responding they were being updated that there were "people trapped" and "hanging out windows", indicating the imminent need for rescue operations.
Our members successfully rescued residents in harms way and evacuated all threatened exposure buildings while simultaneously minimizing property loss by efficiently extinguishing each of the three blazes.
I am proud of the hard work our members do every day, and this is just a fine example of how when you need us, your Boston Firefighters will always be there.
Thank you to the Boston Sparks Association for their rehab services at each of the fires. Thank you Mayor Marty Walsh, for recognizing the need for proper funding and adequate staffing of each fire company. If we did not have the equipment and manpower we have here in Boston, the outcome of these fires most certainly would have been more catastrophic.
To our Local 718 members, I would like to congratulate and thank you for another job well done. From the companies operating at each of the fires, to the fire alarm operators who moved apparatus efficiently, and maintained clear radio communication on each of the fire grounds, to the companies who were relocated to protect other neighborhoods. None of our success would be possible without the combined efforts of each of our members.
Great work as always, and please continue look out for each other.
Boston Fire Fighters Local 718 IAFF
| | | |
| --- | --- | --- |
| | | |
| | | |
| | | |
Great victory for Firefighters all across Massachusetts with Gov. Baker signinga Bill into law that includes Cancer as a line of duty injury. Read More...
Thanks to all our members who showed their support to Nation Grid Local 12003 & Local 12012 at today's rally at City Hall Plaza and the State House Read More...
AWARD--------WINNER 2018 Pierce- Steve MacDonald Stapleton- Glenn Preston Jennings---- Ed Paris Green------ Phil Skrabut Life Member---- Stve MacDonald & Dr. Mike Hamrock Friend of FF----Members of A-10-Dr. Read More...
President Rich Paris address members, active and retired at the 46th anniversary of the Hotel Vendome tragedy that killed nine of our brother fierfighters une 17, 1972 Fire Lieutenant John E. Hanbury, 46 Lad 13 Fire Lieutenant Thomas J. Carroll, 52 Eng 32 Firefighter Richard B. Magee, 39 Eng 33 Firefighter Joseph F. Read More...
Members of Boston Firefighters Local 718 delagates to the Professional Firefighters of Massachusetts atteded the John J.J. Read More...
How to investigate fires involving smoke alarms.
-Jay Fleming